Product
Project Tracking System (PTS) for Contracting Company (buyer)

Provides a dashboard overview of project and contract status, project details (including daily activity), financial and performance tracking, and material usage.
The user can keep track of overall trends and progress that provides detailed information about a specific contractor or project at a touch.
SOR PTS is powered by a real-time, web-based application via the web browser on your PC, Macintosh, iPad, iPhone, or Android smartphone. It's an anytime, anywhere solution for project tracking.
Project Management System for Contractors (sellers)

Contactors can use SOR to perform full-cycle project management, from BOQ to final claim.
Our web-based software reduces paperwork while increasing efficiency, allowing contractor personnel to spend more time on the job site by cutting down the amount of time spent on project documentation and billing by up to tenfold. The system revolves around daily activity records, with all reports and material usage calculated automatically. Put simply, it means more productivity and more efficiency for contractors.
The main contractor software is web-based, with management tracking functions available through SOR Mobile, on iPad, iPhone, or Android smartphone.
Benefits
Enhances Performance

SOR is Software as a Service (SaaS) that stores project data in a "cloud". This drives performance and improves effectiveness and efficiency as both the contractors (seller) and principal (buyer) have access to integrated real-time data for monitoring, tracking and collaboration.
Read more about the difference between conventional and cloud project management
Empowers Delivery

Allows for real-time monitoring on project status and critical job alerts via SOR Mobile, email and/or SMS. This facilitates quick response to possible problems long before they can become critical and affect delivery.
View a gallery of our mobile Project Management System
Increases Capacity

Automated documentation and administration reduce site supervisor/engineer desk hours by up to tenfold, allowing more time to be spent on-site instead.
Reduces Losses

A 360-degree view provides powerful material tracking from order to delivery while including key details such as collection point, job usage and return of excess materials. This raises transparency, minimizes human error and increases material management capability through a simplified material administration method.
Lowers Risk

Improves communication and fosters closer working relationship between buyer and client. Shortens execution time and minimizes occurrences of cost overrun. Deliver projects on time, on budget always.
Key Features
Real-time monitoring
Access from anywhere, anytime
Critical Alert (Email/SMS)
Enhanced Collaboration
Drill down performance analysis
Dashboard 360
Automated Work Flow
Easy to use
"Cloud Computing" Project Management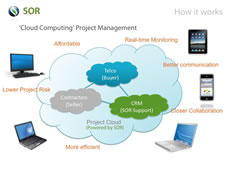 Want to know more?