Conventional vs. Cloud Project Management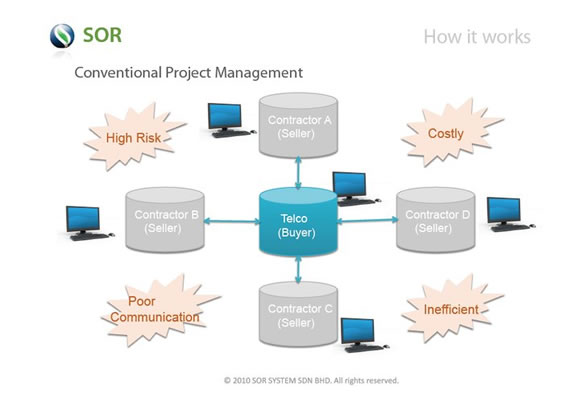 The buyer (principal) and sellers (contractors) each have their own project management systems. Project information is transacted manually via complex paper documentation. 
Systems require significant user training and familiarization before they can be utilized effectively. The large amount of paperwork, specific software, hardware and network configuration result in high operation costs, high maintenance needs and lack of synchronicity between buyer and seller.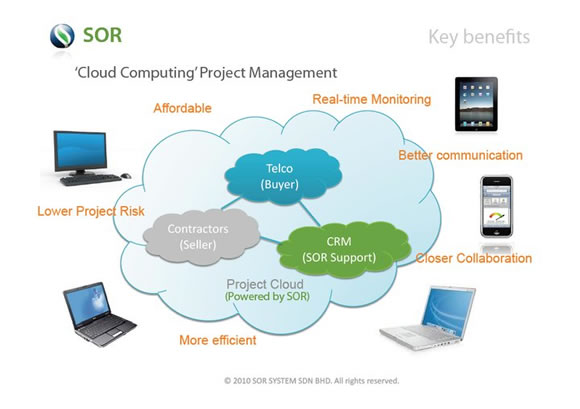 Communication is crucial when comes to managing a multitude of projects. In SOR, we put all of the parties — buyer and sellers — into one project cloud, where they are integrated into one system. Cloud computing allows project information to be accessed, anytime, anywhere instantly via desktop, laptop or mobile.
Cloud-powered systems require only a web-capable device and Internet connection: no specific software installation, network setups or dedicated hardware are needed. This not only saves immediate costs on infrastructure, but also on paperwork, maintenance and floor space. Maintenance and update works can be carried across cloud-based systems can be with far shorter downtime than traditional systems. 
In cloud computing, key information is automatically synchronized so that users are always up-to-date with the project progress. Information discrepancy between users and network is a thing of the past.
Key Features
Real-time monitoring
Access from anywhere, anytime
Critical Alert (Email/SMS)
Enhanced Collaboration
Drill down performance analysis
Dashboard 360
Automated Work Flow
Easy to use
"Cloud Computing" Project Management
Want to know more?